Last Monday there was a board vote on whether we should proceed to consult on the closure of the Queen Elizabeth Annex school. Ultimately I opposed it.
I feel that media coverage on the issue has been quite factual, though there are points I wish to emphasise more. I'll start with the consultation piece:
The consultation is meant to continue the conversation about costs, impact to communities and potential ways to mitigate them. The preliminary report is meant for staff to show the board that this path is viable, and that we could choose to look into it further. We would do the deeper dive and be able to answer questions for everyone involved: community, staff and board.
The consultation, like Trustee Wong said, could have brought forward more information that may point to not proceed with closing QEA. At this time, we don't have information either way. We have strong opinions and beliefs, not data. To me, the issue is not closed; we can proceed again with consultation to close and I predict that we will do just that in a year's time – at most three.
The following points relate to the topic of closing QEA. Technically speaking, in the process we never got to this point – recall that we were only considering proceeding to consultation. However, there was some perception that VSB wanted to "put money ahead of children," which I politely want to dispel.
The lease revenue could (and would most likely be used to) cover a number of upgrades at the seismic mitigation projects (SMPs) that are happening. While the Ministry never explicitly said they would only fund the lowest cost option when it comes to SMPs, they've never funded anything other than the lowest cost option in this district. The door is open for the Ministry to fund above and beyond the lowest cost option and we are eternally hopeful for such an event, but I'm definitely not holding my breath.
In some (not all) cases, the lowest cost option is an upgrade, rather than a new build, even though a new build would save costs in the long run, typically by wiping out, or lowering a good portion of facility maintenance costs. The VSB is always given the option to provide its own capital funds to "top up" and the lease revenue could be used towards that.
Remember Cavell? At the time Cavell was approved by the VPO/Ministry, the VSB did not have ~$6m to top up. Cavell ended up with an upgrade as opposed to a new build.
There will likely be projects in the future (near to medium term) where the VSB is unable to top up.
We do put aside a chunk of our operating budget to maintain our aging buildings. While we'd all love to give these dollars to teachers or enhance our schools in various ways, we do also need to fix our boilers (no one loves a cold classroom) and get rid of asbestos (this should be obvious). If we can lower our facility maintenance backlog we could do more with the operating funds. It is all a drop in the bucket, but we do have to do what we can to keep emptying Thames with our thimbles.
The Conseil scolaire francophone (CSF, or the French school board) has shown interest in this annex for a number of years (around a decade, if I understand correctly). That a lease would be negotiated isn't a done deal, but it would be very surprising if it didn't. The local PACs (at QEA, Jules Quesnel and Rose-des-vents) may have a different understanding of this situation (I've got third-hand reports of R-d-v complaining about the size of QEA), but from what I gather of the CSF board's continued interest, I know this to be the case and trust staff's assessment.
There's also perception that the lease is premeditated and therefore it is a done deal. It's not a done deal. In fact, we've been contacted by numerous parties wanting us to make this deal, which is why we've been very extra careful to not initiate any negotiations or anything else on our end. In hindsight, this may have hampered our understanding of the whole situation at the provincial level because we restricted ourselves to only hearing from the district (mostly QEA and JQ parents, to be precise).
Another perception is that we are targeting French Immersion because we hate French language or district choice programs. It's certainly true that we have been moving district programs around in recent years. The intention isn't because we want disruption, though – anyone who thinks that is presuming evil intent and they're very silly for doing so – it's more that we must balance enrolment in the district, and moving district programs, which were always meant to be moved around, by virtue of their being district programs, is actually one of the least disruptive options (compared to redrawing boundaries or letting the lottery system decide who gets to go to the neighbourhood school). In this case, this is particularly true – as QEA is an annex of JQ, QEA students all eventually have to go to JQ anyway.
There are a number of educational benefits for merging the two schools; I've spoken to many teachers and admins (who don't want to go on record for saying this, understandably) who prefer a larger school. To say that we put money ahead of education benefits is, again, assuming evil or naivete on staff's part, and it's really quite unproductive to do so. There are certainly families who prefer a small school (or think they do, mostly because change is hard), and you can't argue with preference.
While this particular process seemed to fall outside of the bigger Long Range Facilities Plan process, staff does not operate in a vacuum and they are constantly monitoring data at school, neighbourhood and district levels. Assuming that staff are only putting this forward "to get some cash" is very, very silly.
Having said all that, why did I oppose moving to consultation? A few more points. But first, to break up the wall of text I present to you: my coworker.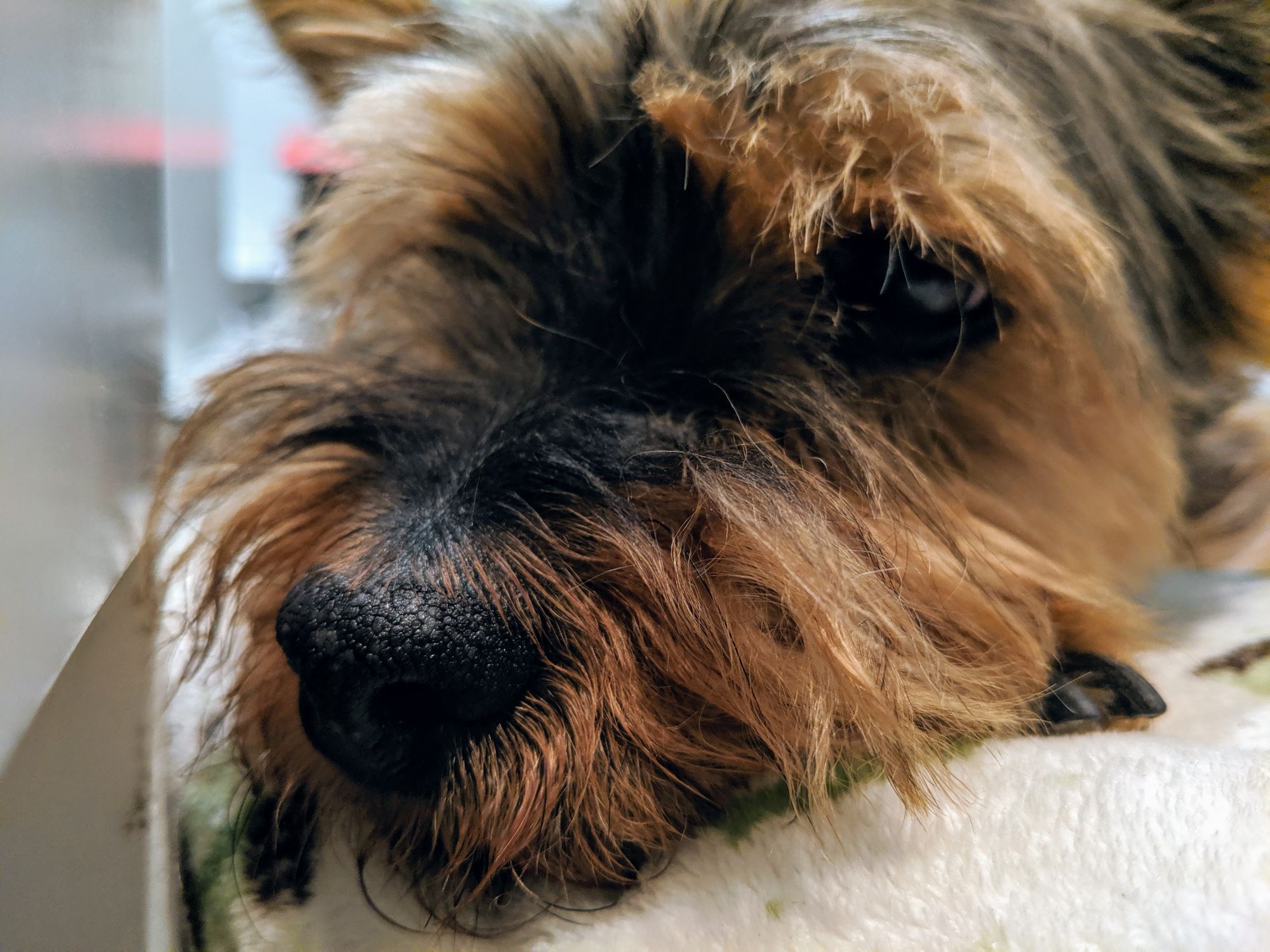 Glad I got that out of the way. And now, some points.
I felt the need to make sure we do it on our terms, and to be seen as doing so. There has been a lot of mistrust that the district is only a pawn of the province and the city. Especially in light of the "letters of support" from Minister Fleming and Mayor Stewart that we received shortly before the meeting, I think in that moment the VSB needed to not appear to kowtow to the Minister (even though, legally and definitely financially speaking, the Ministry does own the VSB).
One of the main goals for my term is to build relationships with the people of the district. There's a lot of mistrust when it comes to government, and I'm not entirely sure why. I used to be very cynical about government bodies too and I can't point a finger on anything in particular that made me feel that way. Something to explore further in a different post. On the ground, this work comes in the form of continuing to meet with community members and parents of the district, and also putting resources into better community consultations. Of course, all this takes time and money. I'm doubtful that there will be much large-scale change in the near to medium term, but hopefully these seeds of intention will grow, and the fruits of this labour will be reaped by others in the future.
Another one of my goals was to do the same with the Ministry. I'm a bit more stymied by this due in part to the systems that are in place which forbids, or makes very difficult, earnest dialogue. For one, the Ministry simply doesn't have all the time to do this with 60 districts and still hope to maintain some semblance of good governance. It's a conundrum of needing to slow down, but also do more with less at the same time. I don't have an answer for this.
At the end of the day, having voted the way I did and having said the things I said, I don't think we will get a new school on the map within my term. That's not a great feeling. However, I'm hopeful that we can chart our own path, and be supported by the other players on this journey, without feeling like – or seeming like – the path is charted by someone else.
Thank you for reading this far.